Simon®, a global leader in premier shopping, dining, entertainment, and mixed-use destinations, is hosting its annual Easter celebration festivities at Mall of Georgia and Town Center at Cobb, offering families the chance to participate in traditional and special seasonal events. The Bunny Photo Experience begins March 29 for Mall of Georgia; and March 15 for Town Center at Cobb. Kids will have the chance to visit with the Bunny and take home a treasured snapshot of the fun occasion.
Save time and avoid the line with the Bunny's FastPass! Families can reserve an appointment with Bunny online at www.simonbunny.com.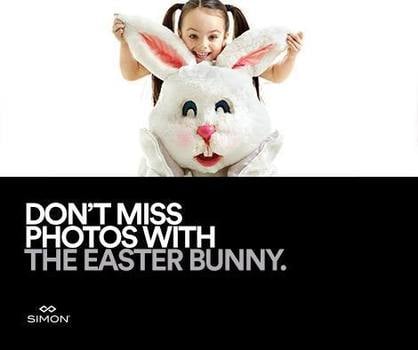 "We love to hold family-friendly events and we always look forward to watching children have fun with the Bunny at Easter," said Teresa Holloway at Mall of Georgia on behalf of the two Atlanta Simon centers.
Mall of Georgia and Town Center at Cobb also provide an opportunity for people with all spectrums of special needs and their families to enjoy this time-honored holiday tradition through a sensory-friendly Caring Bunny event in association with Autism Speaks. Guests can register in advance at simon.com/caringbunny. The Atlanta Simon centers' Bunny Photo Experience will also share the heart of the Easter Bunny by collecting donations for Autism Speaks throughout the season.
Caring Bunny will occur on the following dates for the Atlanta-area Simon centers:
Mall of Georgia: Sunday, March 31 from 9:30-11:30 a.m. in Belk Court
Town Center at Cobb: Sunday, March 31 and Sunday, April 7 from 10:30 a.m.-noon in Center Court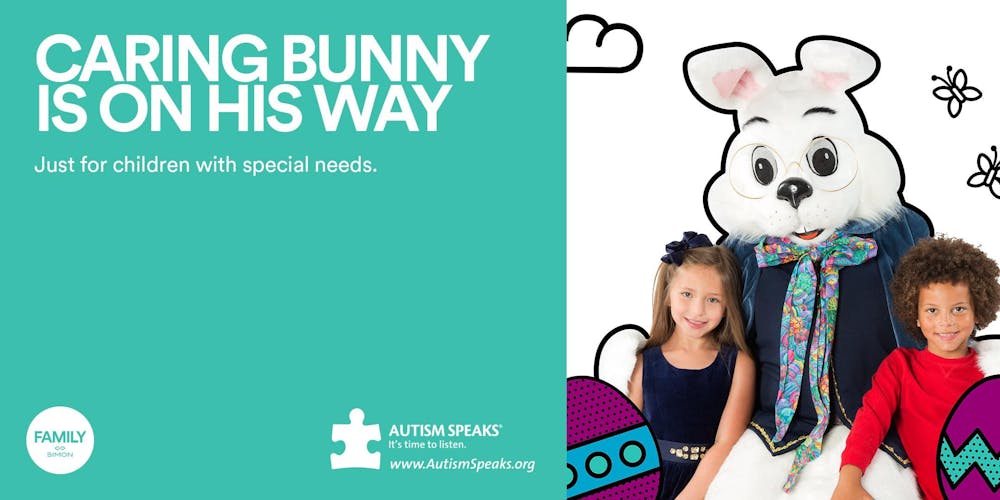 Many steps will be taken to reduce sensory triggers, creating a more comforting environment for children's cherished visit with the Bunny. The subdued environment is likely to include:
Turning off in-mall music, stopping escalators located near the photo set, dimming the lights and shutting down fountains for the duration of the event.
Eliminating queue lines through the use of a numbering system whereby guests approach the set when their number is called.
Special activities geared toward the needs of guests during the 'wait' period.
The popular Pet Photo Night returns to the Easter Bunny Photo Experience at the two Atlanta-area Simon centers this year. Many pet owners view their pet as an integral member of the family and are just as committed in caring for their pets as their human family members. Pet Photo nights are hosted after regular mall closing and the set gets an extensive cleaning following the event to remove any potential risk to allergy sufferers.
Pet Photo Night will occur on the following dates:
Mall of Georgia: Sunday, April 14 from 6-8 p.m. in Belk Court
Town Center at Cobb: Sunday, March 24 and Sunday, April 14 from 6:30-8:00 p.m. in Center Court
About Mall of Georgia
Mall of Georgia, the largest shopping destination in the Southeast, features more than 200 shops, including department stores Macy's, Dillard's, Von Maur, Belk, JCPenney and Dick's Sporting Goods; iconic brands Apple, Michael Kors and Coach; and specialty stores Sephora, Altar'd State, Pandora, American Eagle, H&M and Palmetto Moon. The center is home to signature brand restaurants, including The Cheesecake Factory, Marlow's Tavern, Tin Lizzy's Cantina, P.F. Chang's China Bistro and a 750-seat Dining Pavilion offering more than a dozen delicious options. Shoppers can also enjoy the Regal Cinema 20 & IMAX, a 20-screen, 3-D IMAX theatre. The Village is an outdoor venue that offers family-friendly amenities and hosts a variety of live entertainment year-round, including Movies Under the Stars and Star Spangled Fourth. For a mall map, store listings, directions, events and job listings, please visit simon.com/mallofgeorgia. Connect with Mall of Georgia on facebook.com/MallofGeorgia, twitter.com/ShopMallofGA and instagram.com/shopmallofga.
About Town Center at Cobb
Town Center at Cobb features over 175 stores including anchors Macy's, Macy's Men's & Furniture Gallery, Belk, Sears and JCPenney. The mall is also home to a variety of specialty stores ranging from fashion-forward shops such as Francesca's Collections, H&M, Forever 21 and Sephora to celebrated favorites like Build-A-Bear Workshop, Victoria's Secret and Pandora. Town Center at Cobb regularly hosts community events. For a map and store listings, as well as directions, events and job listings, visit simon.com/towncenteratcobb or call 770-424-9486. Connect with Town Center at Cobb on Facebook, Twitter and Instagram.
About Autism Speaks
Autism Speaks is dedicated to promoting solutions, across the spectrum and throughout the life span, for the needs of individuals with autism and their families. We do this through advocacy and support; increasing understanding and acceptance of people with autism spectrum disorder; and advancing research into causes and better interventions for autism spectrum disorder and related conditions. To find resources, join a fundraising walk or make a donation, go to www.AutismSpeaks.org.