Marietta High parents honor 2020 Blue Devils with 500 faces decorating campus
May 28, 2020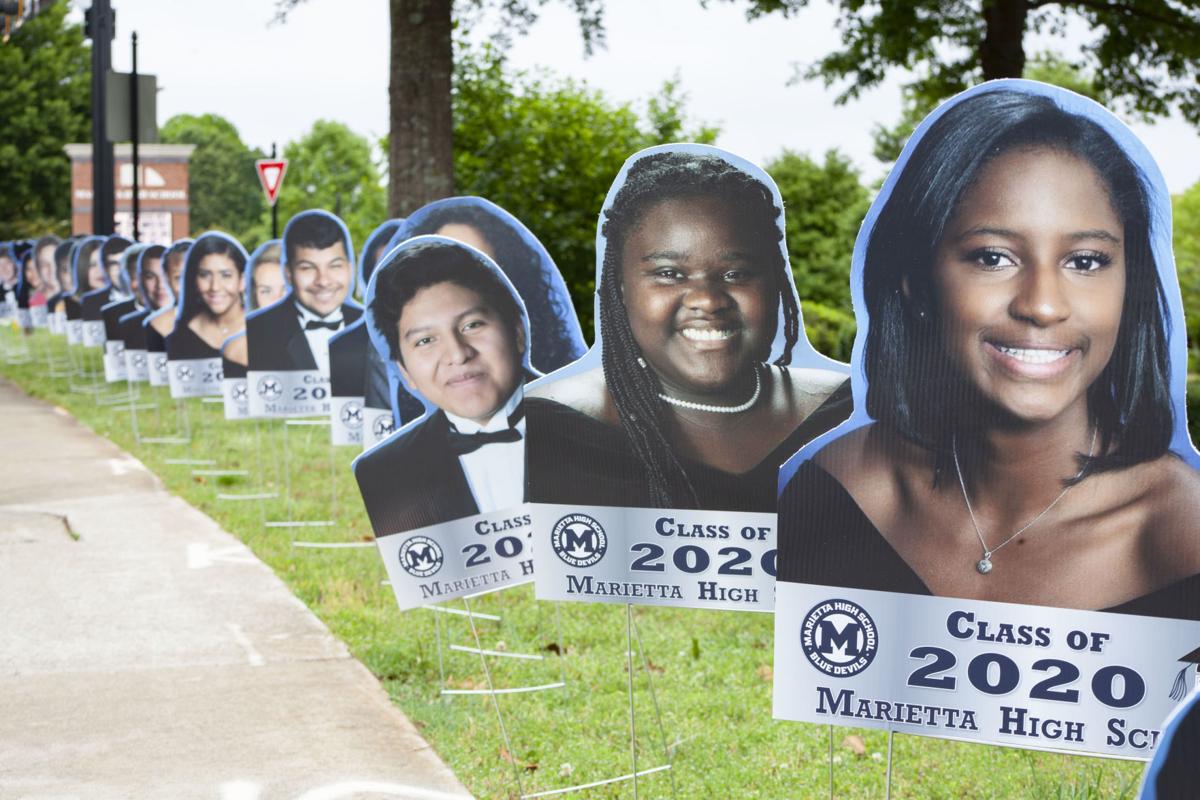 Though Marietta High School parents and staff won't get to watch the Class of 2020 walk the stage this week, there's still one place they can go to see the 500-plus faces of graduating seniors smiling back at them: Whitlock Avenue.
Early Wednesday morning, a group of Marietta mothers lined the sidewalk with signs depicting the faces of the about 500 seniors expected to graduate by July 24, the scheduled date for Marietta's delayed in-person graduation ceremony.
The group said they plan to continue making the signs until each graduating senior is shown.
As they spoke with with the MDJ outside the school, motorists driving by the school admired the group's work, honking in appreciation, waving or shouting their congratulations out their windows.
Former Marietta school board member and Blue Devil mom Jill Mutimer said she'd gathered a group of Marietta moms last month to brainstorm how they could honor a group of seniors who'd had so many once-in-a-lifetime events canceled or significantly altered by COVID-19.
That, she said, is when fellow mom Elizabeth Denney chimed in with the idea for the signs. Denney said the gesture seemed appropriate both for students and their families.
"It's been harder I think for us as parents, in some ways, than for the kids, because I think for us there's so much closure that comes when you have a senior who then graduates," Denney said. "And not being able to have that closure is tough. All of this feels very surreal, and today is the first day that I have cried walking down seeing all these faces. … That's when it really hits you, all that's been missed, but also how amazing our town is and how amazing our school system is."
The group said when they approached Marietta High Principal Keith Ball and Marietta schools Superintendent Grant Rivera with the proposal, the two excitedly offered to fund the $4,000 endeavor.
The next step was finding a business to make the signs on short notice. And that, Mutimer said, is where Minuteman Press Marietta stepped in.
The business, located just down the street from the school, creates business cards, flyers, stationery signs and other marketing products. Judith Hoefer, owner of the Marietta Minuteman franchise, agreed to not only create the signs within a single week of finalizing the designs but also reduced the price for the signs by about 30%, she told the MDJ.
Hoefer and Graphic Assistant Jordan Townsend said they wanted to do what they could to honor the city's seniors who won't get to celebrate their graduation the way they'd wanted.
"It's a good feeling. It'll be really exciting when they actually get to see all that, because, you know, they missed out on whole bunch of really cool events that seniors (normally) get to do," Townsend said. "So hopefully, this will make them feel special and celebrated and like they're still part of a community before they go off wherever they go."
Ball said the idea for the signs aligned perfectly with the planned week of events honoring seniors and especially the Gem City Celebration that took place Wednesday. That celebration included decoration of Marietta mailboxes in honor of graduates, congratulatory messages on local business marquees and other recognitions.
The principal also said the signs were kept a secret from the high school's seniors until the moment they were unveiled.
Thomas Lewis, a graduating Marietta senior bound for North Carolina's Elon University in the fall, said his mother woke him up Wednesday morning to visit the school and look for his face after seeing the long line of graduates' headshots blowing in the unseasonably chilly wind.
Lewis, sporting a Marietta High School T-shirt, paused to speak with the MDJ as his parents searched for his mug. He said the abrupt switch to remote learning left many seniors reeling, both because of the challenge it created to stay motivated to complete the semester and because many friends and acquaintances never got to properly say goodbye.
Lewis said the district's week of senior events and the surprise of seeing the faces of his classmates along Whitlock Avenue have been much appreciated by the Class of 2020, who, like their parents, have been saddened by a lack of closure for their high school career.
"To the school district, I want to say, 'Thank you for doing this for all of us,'" he said. "And to the other students: While we may not be able to graduate from school (this week), it's been a really, really fun four years, and I want to thank everyone for being there and helping everyone else get through this."